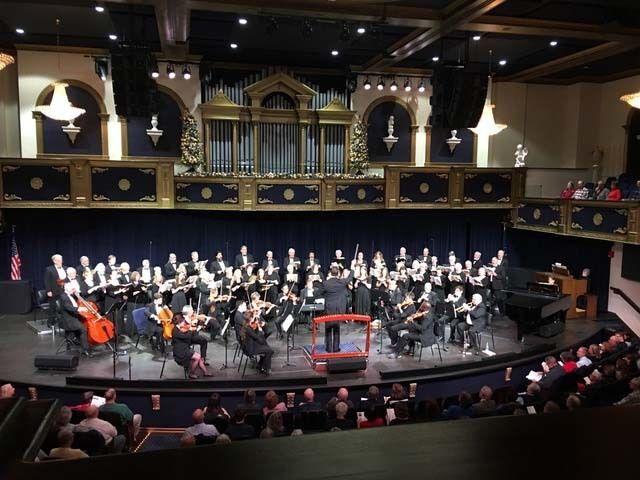 ANGOLA – The 10th anniversary celebration of 'Messiah' by the Steuben County Festival Choir is finally about to take place, after a year of delay due to the COVID-19 pandemic.
The Festival Choir, some 65-strong, will once again be joined by 18 members of the Fort Wayne Philharmonic to perform much of the George Frideric Handel classic. The performance will take place at 2 p.m. on Sunday, December 12 at the T. Furth Center for Performing Arts on the Trine University campus. Doors open at 1 p.m. Tickets cost $ 10 each and can be purchased online at trine / edu / furth.
"They are all members of the local choir, mainly from Steuben County, LaGrange County, Battle Creek, Michigan. We have members coming from Toledo, Ohio this year, "said Joe Peters, who will lead and lead once again.
Many of the Festival Choir members are back for their 10th year. This specifically includes the core that initially set up the production including Peters, his father, John Peters, as well as Steuben County music icons Lynn Syler (vocals) and Jeri Mow (accompanist, grand piano) .
"The vast majority of people in the choir have done it every 10 years. We are so happy to be back. The excitement of wanting to do it this year is pretty overwhelming, "said Peters, a music major who studied conducting at university.
This sentiment is shared by most if not all of those involved. Take Syler, for example. She and her husband Dave sang the "Messiah" together in a college choir about 50 years ago.
"It's a weak spot in our hearts," said Lynn Syler. "It is so moving to sing these words from the Bible. It just makes you want to keep going, no matter what.
Mow recounts how she, Joe Peters and Syler got together about 11 years ago to begin planning for the first performance, which like the early years was at St. Anthony of Padua Catholic Church before moving to Furth.
Peters, Syler and Mow chat all year round about Handel's oratorio, one of Peter's favorites, and the planning of the Festival Choir's show.
"It's a very important part of our lives," Syler said.
"Look at where we are 10 years later! I continue to work with Lynn and Joe at every rehearsal, at every solo audition, at every performance and literally all year round as we discuss issues, changes and assumptions. Over the past year during the pandemic, there have been numerous phone calls, emails and texts about what to do about performance. Right now we are very excited to be able to bring this wonderful program to the public again, "Mow said.
Peters said the gap year caused a bit of rust to build up, but with the experience of so many involved, production is falling into place. Rehearsals started last weekend and continue today in the Furth basement at 1pm.
"The majority (of the choir) have been rehearsed well and that's nothing new to them," Syler said. "It's hard to do."
Mow said people are welcome to join the choir, but they had better be willing to work, especially if they don't know "Messiah".
"Joe is a meticulous and demanding director. He studies the score and listens intently to the choir. He knows what he wants to hear and gives specific instructions to get there, "Syler said. "Remember he was only a 24 or 25 year old when we started this journey 10 to 11 years ago. His talents as a conductor have perfected along the way. He and Jeri are the ones who do the most work and preparation each year.
The festival choir performs much of the three parts that make up "Messiah". The three parts cover the birth, death and resurrection of Jesus. The show lasts about two hours. Performing the entire piece would take almost three hours.
Much like the powerful words and music of "Messiah," Syler always marvels at the creation of the work itself.
Handel claimed that it was divine inspiration that took over when he created the work. The full score covers 259 pages and was written in 24 days. The oratorio was written in 1741 and premiered in Dublin during Lent of 1742.
"It's just phenomenal," Syler said. "To know he wrote this in less than a month." Can you imagine writing all this orchestration, the music, the parts? "
And it has stood the test of time. Many choirs across the United States perform "Messiah" each year, usually during the Christmas season.